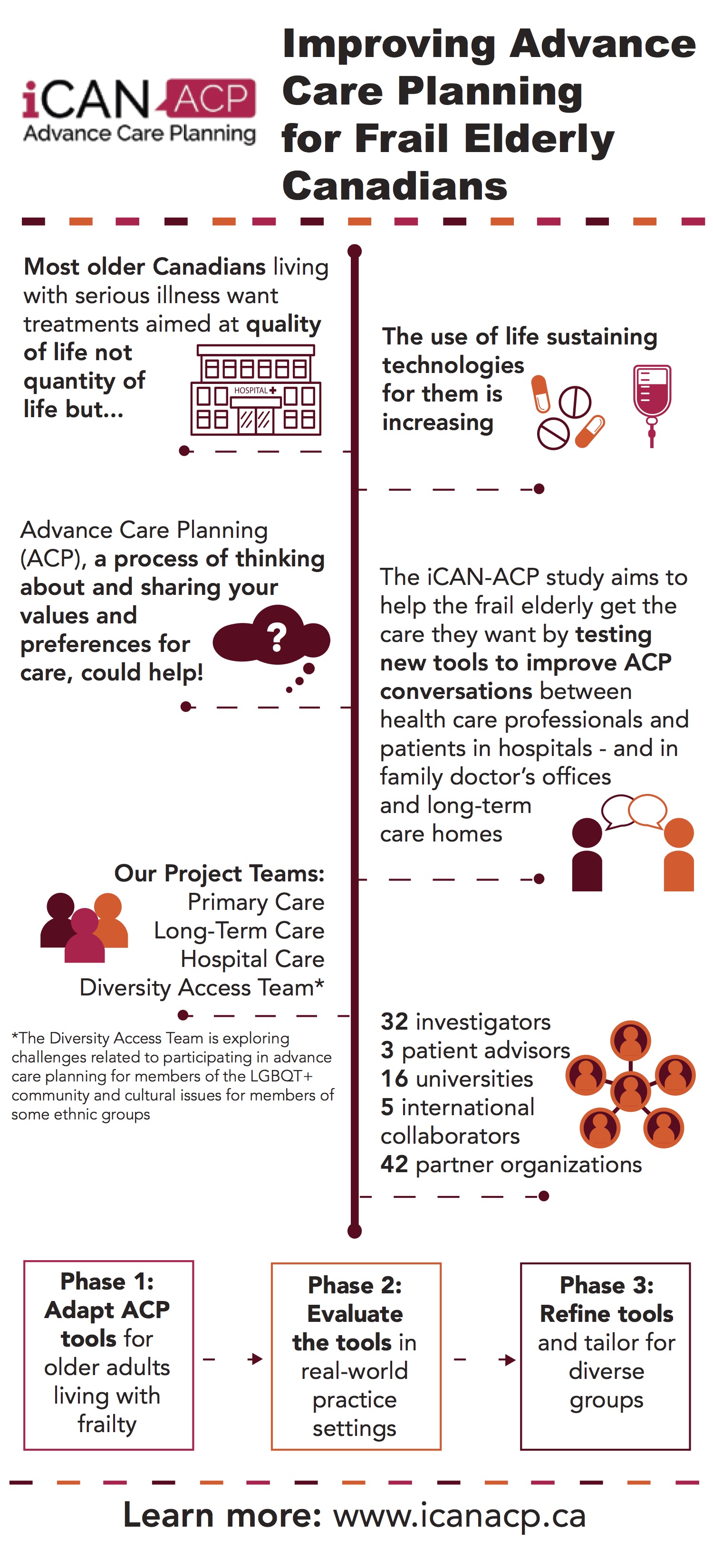 Contact the iCAN-ACP team:
Project Leader: Dr. John You, This email address is being protected from spambots. You need JavaScript enabled to view it.
Study Coordinator: Ms. Marilyn Swinton, This email address is being protected from spambots. You need JavaScript enabled to view it.
Research has shown most frail elderly patients want to maintain quality of life rather than prolong it, however the use of invasive life-sustaining technologies in this population has been increasing.
iCAN-ACP is a new $2.7 million national study that aims to narrow the gap between the care that frail elderly Canadians want and the care that they receive by testing ways to improve advance care planning conversations between patients, families and health professionals.
Project team members will engage elderly Canadians and their family members along with clinicians, and health care organizations to implement and evaluate a suite of tools to support advance care planning, a process for reflecting on and communicating wishes for future health care.  These tools include videos, workbooks, interactive websites, and conversation guides, all of which can support better and earlier communication and decision-making about healthcare, particularly for those who can no longer communicate their wishes. 
The study is bringing together a team of 32 investigators from 16 universities, five international collaborators and 42 partner organizations. The study will be undertaken in several health settings across Canada: family doctors' offices, long-term care facilities, and hospitals. It is funded by the Canadian Frailty Network (CFN) and supported by Government of Canada through the Networks of Centres of Excellence program.
Learn more about the study and the study's Principal Investigators
---
Videos and Articles
iCAN ACP Research Team Webinar:
Watch Dr. John You's webinar: "Adapting and Implementing the Serious Illness Care Program in the Hospital Setting"
iCAN ACP Project Team Meeting #3
Related articles and papers:
Broadening End-of-Life Comfort to Improve Palliative Care Practices in Long Term Care
---
iCAN - ACP Projects
Strengthening a Palliative Approach in Long-Term Care (SPA-LTC)
Residents living and dying in long-term care (LTC) homes represent one of society's most frail and marginalized populations of older adults. The average length of stay within LTC has decreased significantly in recent years making LTC a major location of death for frail older adults internationally. Yet, comprehensive palliative approaches to care that include early discussions about care goals, and timely end-of-life care planning is still rare.
Learn more about iCAN-ACP in Long-Term Care and the Principal Investigators
iCAN - ACP in Primary Care
 Learn more about iCAN-ACP in Primary Care and the Principal Investigators
iCAN - ACP Strengthening Diversity Access
Learn more about the iCAN-ACP Strengthening Diversity Access and the Diversity Access Team